About Us
VC Engineering Sdn Bhd is a clean room contractor provides total engineering and solutions from Engineering, Procurement, Construction, Commissioning & Validation services for Clean Room, Industrial Mechanical & Electrical (M & E) and Industrial Process Utilities. We have technical resources combining process utilities, mechanical and electrical engineering, management, construction, commissioning, qualification & validation expertise.
VC (formerly known as Green Tech Engineering & Solutions Sdn Bhd) was created since 2010 with both founders are having more than 20 years experience in Wafer fab, Semiconductor, Pharmaceutical, Food Industry, R & D Lab, Tissue Culture Lab, Tempering Room, PCR Lab and industry build up projects. VC has been exposed to various kind of high profile projects like Mercedez Benz, Roche Pharmaceutical Plant, Novugen, Oncogen, Wilmar International, X Fab, ASE, Infineon, Sumika, Jabil, DB Schenker, First Solar, WD, Sensata, Unisem in Malaysia, Indonesia, France, Poland and China,
VC is a clean room contractor which has been experiencing various kind high profiles EPCM, EPCC, design & built projects at Malaysia, and China since 2010 set up.
VC has wide global engineering and solution resources capability with its sister companies in China (GESC engineering (Wuxi) Co. Ltd.) and Europe (M+F Engineering Sp. Zo.o).
VC Paid Up Capital RM 2,500,000.00 (2.5 Million Ringgit Malaysia)
VC has Malaysia CIDB Registered Gred G7 Licence
VC  has been audited and certified ISO 9001:2015 Quality Management System
EngineeringTeam
"Young Team", with 15 – 20 years of Management and Project Execution experience. Predominantly in the field of Industrial High Tech applications.
Market
VC Engineering provides the engineering services & project management to the Pharmaceutical, Biotechnology, Food Industry, Tissue Culture Lab, Wafer Fab, Semiconductor, R & D Lab & general building services. Our services wide offer to Malaysia, Singapore, Indonesia, Thailand, China & East Europe.
Company Structure
Total Head Count : 28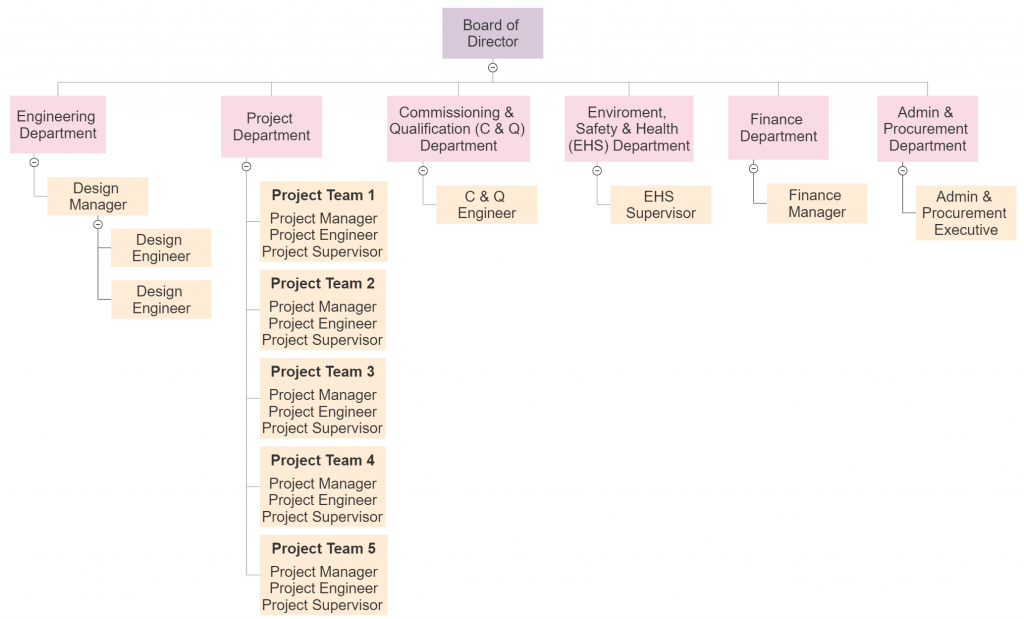 15,667 total views